Announcing Read Fierce: A Fierce Reads Book Club
August 20, 2020 | 9:30 AM
Announcing Read Fierce: A Fierce Reads Book Club
By Team Fierce Reads
Announcing Read Fierce: A Fierce Reads Book Club!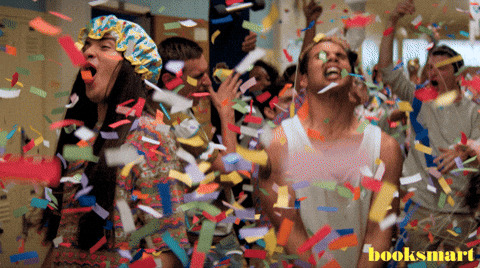 Can you believe that fall is just around the corner? It seems like it was just May and we were digging through our closets for adorable summer outfits and the perfect beach read. Now with pumpkin spice season a mere few weeks away and the crispy smell of fall in the air, we've been dreaming of our next bookish adventure... which is why we're starting the Read Fierce book club!
That's right, each month we'll be selecting a book to read along with you. We can't wait to dig into these stories, get to know some new favorite characters, swoon over the best romances, and visit new worlds with you!
So what are we reading first? Grab your dancing shoes because we're kicking things off with… I Wanna Be Where You Are by Kristina Forest! This hilarious young adult debut is a super sweet romcom you won't want to miss out on. There's a sneaky road trip, a heart-stirring romance, and a few broken rules along the way. We can't wait for you to dive into this friends-to-frienemies-to lovers novel with you on September 8th.
And, if that hasn't convinced you, click below to have the author herself tell you why you shouldn't miss this loveable romcom.
Follow along with us on Twitter and Instagram, as well as with author Kristina Forest on Twitter @KristinaForest or Instagram @kristinaforest_ as we take this road-trip adventure.
And make sure to mark your calendars with the #ReadFierce September dates below:
Week One: September 8 Chapter 1–11
Week Two: September 13 Chapter 12–22
Week Three: September 20 Chapter 13–end
In honor of the launch of Read Fierce, we're giving away five book club starter packs for you and your friends to join us. Enter for your chance to win one of five Book Club Starter Packs now!
"In a world where it's easy to lose faith in love, I Wanna Be Where You Are is a brilliant burst of light. A dazzling debut." — Nic Stone, New York Times bestselling author of Dear Martin and Odd One Out
When Chloe Pierce's mom forbids her to apply for a spot at the dance conservatory of her dreams, she devises a secret plan to drive two hundred miles to the nearest audition. But Chloe hits her first speed bump when her annoying neighbor Eli insists upon hitching a ride, threatening to tell Chloe's mom if she leaves him and his smelly dog, Geezer, behind. So now Chloe's chasing her ballet dreams down the east coast—two unwanted (but kinda cute) passengers in her car, butterflies in her stomach, and a really dope playlist on repeat.
Filled with roadside hijinks, heart-stirring romance, and a few broken rules, I Wanna Be Where You Are is a YA debut perfect for fans of Jenny Han and Sandhya Menon.
If you're looking for more pitch-perfect romance reads be sure to check out Kristina's newest novel, Now That I've Found You available wherever books are sold August 25, 2020.