Books to Add to Your TBR for Latinx Heritage Month
September 15, 2020 | 1:00 PM
Books to Add to Your TBR for Latinx Heritage Month
By Team Fierce Reads
Have you heard?
It's Latinx Heritage Month!
Starting September 15 (and ending October 15), Latinx Heritage month celebrates the histories, cultures, and contributions of Latinx Americans. And, what better way to spend the month than reading books by some incredible Latinx authors! Check out our full list of book recs and don't miss a page.
A trans boy determined to prove his gender to his conservative Latinx family summons a ghost who refuses to leave in Aiden Thomas's paranormal YA debut Cemetery Boys.
Yadriel has summoned a ghost, and now he can't get rid of him. When his traditional Latinx family has problems accepting his true gender, Yadriel becomes determined to prove himself a real brujo. With the help of his cousin and best friend Maritza, he performs the ritual himself, and then sets out to find the ghost of his murdered cousin and set it free. However, the ghost he summons is actually Julian Diaz, the school's resident bad boy, and Julian is not about to go quietly into death. He's determined to find out what happened and tie off some loose ends before he leaves. Left with no choice, Yadriel agrees to help Julian, so that they can both get what they want. But the longer Yadriel spends with Julian, the less he wants to let him leave.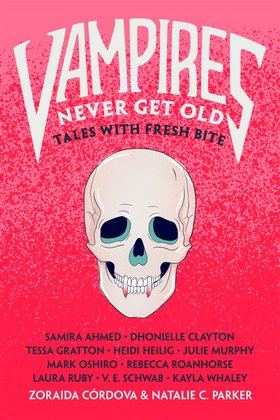 Vampires Never Get Old edited by Zoraida Córdova and Natalie C. Parker
*Editor Zoraida Córdova and contributor Mark Oshiro are Latinx and there are two #ownvoices Latinx vampire stories included in the collection In this delicious new collection, you'll find stories about lurking vampires of social media, rebellious vampires hungry for more than just blood, eager vampires coming out—and going out for their first kill—and other bold, breathtaking, dangerous, dreamy, eerie, iconic, powerful creatures of the night. Welcome to the evolution of the vampire—and a revolution on the page.
After their world-famous mother disappeared under mysterious circumstances, Manon and Thais left their remote Mediterranean home—sent away by their pharma-tech tycoon father. Opposites in every way, the sisters drifted apart in their grief. Yet their mother's unfinished story still haunts them both, and they can't put to rest the possibility that she is still alive. Lured home a decade later, Manon and Thais discover their mother's legendary last work, long thought lost: White Fox, a screenplay filled with enigmatic metaphors. The clues in this dark fairytale draw them deep into society's surreal underbelly, into the twisted secrets hidden by their glittering family, to reveal the truth about their mother—and themselves.
With Anna-Marie McLemore's signature lush prose,
Dark and Deepest Red
pairs the forbidding magic of a fairy tale with a modern story of passion and betrayal. Summer, 1518. A strange sickness sweeps through Strasbourg: women dance in the streets, some until they fall down dead. As rumors of witchcraft spread, suspicion turns toward Lavinia and her family, and Lavinia may have to do the unimaginable to save herself and everyone she loves. Five centuries later, a pair of red shoes seal to Rosella Oliva's feet, making her dance uncontrollably. They draw her toward a boy who knows the dancing fever's history better than anyone: Emil, whose family was blamed for the fever five hundred years ago. But there's more to what happened in 1518 than even Emil knows, and discovering the truth may decide whether Rosella survives the red shoes.
For fans of Girl in Pieces, All the Bright Places, and Girl, Interrupted comes a haunting and breathtaking YA contemporary debut novel that packs a powerful message: hope can be found in the darkness.
"Achingly poignant . . . a love letter and a life raft to the brokenhearted." –New York Times–bestselling author Alison McGhee
Seventeen-year-old Ellie had no hope left. Yet the day after she dies by suicide, she finds herself in the midst of an out-of-body experience. She is a spectator, swaying between past and present, retracing the events that unfolded prior to her death. But there are gaps in her memory, fractured pieces Ellie is desperate to re-assemble. There's her mother, a songbird who wanted to break free from her oppressive cage. The boy made of brushstrokes and goofy smiles who brought color into a gray world. Her brooding father, with his sad puppy eyes and clenched fists. Told in epistolary-like style, this deeply moving novel sensitively examines the beautiful and terrible moments that make up a life and the possibilities that live in even the darkest of places. Perfect for fans of the critically-acclaimed
Speak
,
I'll Give You the Sun
, and
If I Stay
. "An exquisitely played love song to life, in all of its hurts, wonders, memories, and loves." –Jeff Zentner, Morris Award-winning author of
The Serpent King
and
Goodbye Days
The Cerceta girls have never just been sisters; they're also rivals. They know that one day, they'll find themselves drawn into a dangerous game to determine which sister will stay a girl and which will be cursed to live as a swan. But when two of their childhood friends become drawn into the game, the curse threatens to decide the fate not just of the sisters, but of all four of them. Blanca & Roja is the captivating story of sisters, friendship, love, hatred, and the price we pay to protect our hearts for fans of magical realism, gorgeous writing, and sister stories.
Simmering in Patagonian myth,
The Tenth Girl
is a gothic psychological thriller with a haunting twist. At the very southern tip of South America looms an isolated finishing school. Legend has it that the land will curse those who settle there. But for Mavi—a bold Buenos Aires native fleeing the military regime that took her mother—it offers an escape to a new life as a young teacher to Argentina's elite girls. Mavi tries to embrace the strangeness of the imposing house—despite warnings not to roam at night, threats from an enigmatic young man, and rumors of mysterious Others. But one of Mavi's ten students is missing, and when students and teachers alike begin to behave as if possessed, the forces haunting this unholy cliff will no longer be ignored. One of these spirits holds a secret that could unravel Mavi's existence. In order to survive she must solve a cosmic mystery—and then fight for her life.
Award-winning Mexican author Juan Pablo Villalobos explores illegal immigration with this emotionally raw and timely nonfiction book about ten Central American teens and their journeys to the United States.
You can't really tell what time it is when you're in the freezer. Every year, thousands of migrant children and teens cross the U.S.-Mexico border. The journey is treacherous and sometimes deadly, but worth the risk for migrants who are escaping gang violence and poverty in their home countries. And for those refugees who do succeed? They face an immigration process that is as winding and multi-tiered as the journey that brought them here. In this book, award-winning Mexican author Juan Pablo Villalobos strings together the diverse experiences of eleven real migrant teenagers, offering readers a beginning road map to issues facing the region. These timely accounts of courage, sacrifice, and survival—including two fourteen-year-old girls forming a tenuous friendship as they wait in a frigid holding cell, a boy in Chicago beginning to craft his future while piecing together his past in El Salvador, and cousins learning to lift each other up through angry waters—offer a rare and invaluable window into the U.S.–Central American refugee crisis. In turns optimistic and heartbreaking,
The Other Side
balances the boundless hope at the center of immigration with the weight of its risks and repercussions. Here is a necessary read for young people on both sides of the issue.
Wild Beauty by Anna-Marie McLemore
Love grows such strange things. Anna-Marie McLemore's debut novel
The Weight of Feathers
garnered fabulous reviews and was a finalist for the prestigious YALSA Morris Award, and her second novel,
When the Moon was Ours
, was longlisted for the 2016 National Book Award for Young People's Literature. Now, in
Wild Beauty,
McLemore introduces a spellbinding setting and two characters who are drawn together by fate—and pulled apart by reality. For nearly a century, the Nomeolvides women have tended the grounds of La Pradera, the lush estate gardens that enchant guests from around the world. They've also hidden a tragic legacy: if they fall in love too deeply, their lovers vanish. But then, after generations of vanishings, a strange boy appears in the gardens. The boy is a mystery to Estrella, the Nomeolvides girl who finds him, and to her family, but he's even more a mystery to himself; he knows nothing more about who he is or where he came from than his first name. As Estrella tries to help Fel piece together his unknown past, La Pradera leads them to secrets as dangerous as they are magical in this stunning exploration of love, loss, and family.