The Spring 2020 Covers Have Arrived
January 9, 2020 | 3:00 PM
The Spring 2020 Covers Have Arrived
By Team Fierce Reads
It's so cold outside that it's hard to believe it's time to start thinking about our spring TBR lists but IT IS.
(Honestly, we are over these frigid temperatures and are hoping that thinking about spring books will make time speed up—join us, won't you?)
Can you believe we're publishing 35 new books from May to August of 2020? It's true. And the full round-up truly has MULTIPLE books for everyone. There's creepy paranormal, heart-pounding thrillers, swoony romance, harrowing survival stories, fierce feminist plots, spooky paranormal tales, exciting sci-fi adventure, sweeping fantasy, incredible non-fiction, moving novels in verse, sweet historical fiction, stunning graphic novels, and SO MUCH MORE. The list is unreal and we can't wait until each and every one of them goes on sale so you can add them to your personal libraries (or borrow them from your nearest library).
Of course, not every cover is ready to share, so be sure to take another look in a month or so—we'll be updating this post with the last few covers, art credits, and more as we creep closer and closer to spring.
Well, what are you waiting for?
CHECK OUT THESE COVERS!
The Dark In-Between by Elizabeth Hrib
On Sale: May 5, 2020
Cover design by Liz Dresner and Cindy De La Cruz
A terrible accident brings sixteen-year-old Casey Everett's life to a halt—literally. Pulled from the water, Casey is rushed to the hospital and miraculously revived. But her sudden return to the living is shadowed by the drowning of her best friend, Liddy.

Overcome with grief, Casey returns home for the summer only to find the memories of the accident won't let her go. Shadow-drenched nightmares. Whispers in the back of her mind. Her friend's screams. Casey thinks she's losing it... until she watches a boy fall from the sky.
Red—an angel fallen to earth to regain his wings—takes her to Limbo, a place that exists somewhere between the living and the dead. Now, in order to save her best friend, Casey must learn to walk these mysterious and dangerous paths or else risk losing Liddy's trapped soul to something worse than death.
The Girl in the White Van by April Henry
On Sale: May 12, 2020
Cover design by Mallory Grigg
When Savannah disappears soon after arguing with her mom's boyfriend, everyone assumes she's run away. The truth is much worse. She's been kidnapped by a man in a white van who locks her in an old trailer home, far from prying eyes. And worse yet, Savannah's not alone: ten months earlier, Jenny met the same fate and nearly died trying to escape. Now as the two girls wonder if he will hold them captive forever or kill them, they must join forces to break out—even if it means they die trying.
True or False: A CIA Analyst's Guide to Spotting Fake News by Cindy L. Otis
On Sale: May 19, 2020
Cover design by Patrick Collins
"Fake news" is a term you've probably heard a lot in the last few years, but it's not a new phenomenon. From the ancient Egyptians to the French Revolution to Jack the Ripper and the founding fathers, fake news has been around as long as human civilization. But that doesn't mean that we should just give up on the idea of finding the truth.
In True or False, former CIA analyst Cindy Otis will take readers through the history and impact of misinformation over the centuries, sharing stories from the past and insights that readers today can gain from them. Then, she shares lessons learned in over a decade working for the CIA, including actionable tips on how to spot fake news, how to make sense of the information we receive each day, and, perhaps most importantly, how to understand and see past our own information biases, so that we can think critically about important issues and put events happening around us into context.
I Kissed Alice by Anna Birch
On Sale: May 26, 2020
Cover design by Carolyn Bull, art by Victoria Ying
Rhodes and Iliana couldn't be more different, but that's not why they hate each other. Hyper-gifted artist Rhodes has always excelled at Alabama's Conservatory of the Arts despite a secret bout of creator's block, while transfer student Iliana tries to outshine everyone with her intense, competitive work ethic. Since only one of them can get the coveted Capstone scholarship, the competition between them is fierce.
They both escape the pressure on a fanfic site where they are unknowingly collaborating on a graphic novel. And despite being worst enemies in real life, their anonymous online identities I-Kissed-Alice and Curious-in-Cheshire are starting to like each other... a lot. When the truth comes out, will they destroy each other's future?
Last Chance Summer by Shannon Klare
On Sale: May 26, 2020
Cover design by Trisha Previte
Alex is a sheriff's daughter with a less than pristine reputation. When she's caught drinking at a party by her dad's deputy, she's in deep trouble. With an already incriminating incident in her past, Alex's parents ship her off to her aunt's summer camp to work as a counselor—lest she spend her senior year at boarding school.
What's worse than spending your summer deep in the mosquito-infested woods of Texas?
Being paired with an obnoxious co-counselor who wants nothing to do with you.
Alex is determined to make the best of her summer, even if it means putting up with Grant, who has secrets of his own that he's determined to protect. Can Alex and Grant put their egos to the side and find the bright side of a summer that neither of them signed up for?
The Ballad of Ami Miles by Kristy Dallas Alley
On Sale: May 26, 2020
Cover design by Kathleen Breitenfeld and Liz Dresner

Raised in isolation at Heavenly Shepherd, her family's trailer-dealership-turned-survival compound, Ami Miles knows that she was lucky to be born into a place of safety after the old world ended and the chaos began. But when her grandfather brings home a cold-eyed stranger, she realizes that her "destiny" as one of the few females capable of still bearing children isn't something she's ready to face.
With the help of one of her aunts, she flees the only life she's ever known and sets off on a quest to find her long-lost mother (and hopefully a mate of her own choosing). But as she journeys, Ami discovers many new things about the world... and about herself.
The Friend Scheme by Cale Dietrich
On Sale: May 26, 2020
Cover design by Katie Klimowicz, art by Meybis Ruiz Cruz

Part thriller, part romance, The Friend Scheme is another twisty #ownvoices YA novel from Cale Dietrich, author of The Love Interest.

High schooler Matt's father is rich, powerful, and seemingly untouchable—a mobster with high hopes that his son will follow in his footsteps. Matt's older brother Lukas seems poised to do just that, with a bevy of hot girls in tow. But Matt has other ambitions—and attractions.
And attraction sometimes doesn't allow for good judgment. Matt wouldn't have guessed that Jason, the son of the city's police commissioner, is also carrying a secret. The boys' connection turns romantic, a first for both. Now Matt must decide if he can ever do the impossible and come clean about who he really is, and who he is meant to love.
Now That I've Found You by Kristina Forest
On Sale: June 2, 2020
Cover design by Cassie Gonzales, art by Kat Goodloe
Eighteen-year-old Evie Jones is poised to be Hollywood's next big movie star, following in the footsteps of her über famous grandma, Evelyn Conaway. That is, until a friend's betrayal ultimately leads to Evie being fired and blacklisted. A public appearance with Evelyn Conaway, AKA Gigi, is just the thing to save Evie's floundering career. But the week Evie plans to present Gigi with a major award in front of Hollywood's elite, Gigi, a recluse who's been out of the limelight for almost 20 years, disappears.
With time running out and her comeback on the line, Evie reluctantly enlists the help of the last person to see Gigi before she disappeared: Milo Williams, a cute musician whom Evie isn't sure she can trust. As Evie and Milo spend a wild week together in New York City searching for Gigi, romance and adventure abound, and Evie makes some new discoveries about Gigi, but most importantly, about herself. 

Six Angry Girls by Adrienne Kisner
On Sale: June 2, 2020
Cover design by Mallory Grigg

Raina Petree is crushing her senior year, until her boyfriend dumps her, the drama club (basically) dumps her, the college of her dreams slips away, and her arch-nemesis triumphs. Things aren't much better for Millie Goodwin. Her father treats her like a servant, and the all-boy Mock Trial team votes her out, even after she spent the last three years helping to build its success.
But then, an advice columnist unexpectedly helps Raina find new purpose in a pair of knitting needles and a politically active local yarn store. This leads to an unlikely meeting in the girls' bathroom, where Raina inspires Millie to start a rival team. The two join together and recruit four other angry girls to not only take on Mock Trial, but to smash the patriarchy in the process.
All Eyes on Her by L.E. Flynn
On Sale: June 2, 2020
Cover design by Natalie Sousa

You heard the story on the news. A girl and a boy went into the woods. The girl carried a picnic basket. The boy wore bright yellow running shoes. The girl found her way out, but the boy never did….

Everyone thinks they know what happened. Some say Tabby pushed him off that cliff— she didn't even like hiking. She was jealous. She had more than her share of demons. Others think he fell accidentally—she loved Mark. She would never hurt him…even if he hurt her. But what's the real story? All Eyes On Her is told from everyone but Tabby herself as the people in her life string together the events that led Tabby to that cliff. Her best friend. Her sister. Her enemy. Her ex-boyfriend. Because everybody thinks they know a girl better than she knows herself.
What do you think is the truth?
The Challenger by Taran Matharu
On Sale: June 2, 2020
Cover design by Kathleen Breitenfeld and Patrick Collins
The first battle is over, but the Game is just beginning...
Cade Carter and his friends have survived the qualifying round of the mysterious overlords' twisted games, decimated by the loss of so many of their comrades during the fight. But they have no time to mourn, for the next round of trials is about to begin.
When the group discovers that their next foe will be even more ferocious than the last, Cade leads them on a quest out into their strange new world to find anything that might give them an edge. But what they find in the wilds could prove to be even more dangerous than the impending battle...
The stakes are higher than ever in this thrilling sequel to The Chosen.
Cemetery Boys by Aiden Thomas
On Sale: June 9, 2020
Cover design by Rich Deas and Liz Dresner, art by Mars Lauderbaugh

A trans boy determined to prove his gender to his conservative Latinx family summons a ghost who refuses to leave in Aiden Thomas's paranormal YA debut Cemetery Boys.
Yadriel has summoned a ghost, and now he can't get rid of him.
When his traditional Latinx family has problems accepting his true gender, Yadriel becomes determined to prove himself a real brujo. With the help of his cousin and best friend Maritza, he performs the ritual himself, and then sets out to find the ghost of his murdered cousin and set it free.
However, the ghost he summons is actually Julian Diaz, the school's resident bad boy, and Julian is not about to go quietly into death. He's determined to find out what happened and tie off some loose ends before he leaves. Left with no choice, Yadriel agrees to help Julian, so that they can both get what they want. But the longer Yadriel spends with Julian, the less he wants to let him leave.
This Is All Your Fault by Aminah Mae Safi
On Sale: June 9, 2020
Cover design by Rich Deas and Liz Dresner, art by Carina Lindmeier
Rinn Olivera is finally going to tell her longtime crush AJ that she's in love with him.

Daniella Korres writes poetry for her own account, but nobody knows it's her.

Imogen Azar is just trying to make it through the day.

When Rinn, Daniella, and Imogen clock into work at Wild Nights Bookstore on the first day of summer, they're expecting the hours to drift by the way they always do. Instead, they have to deal with the news that the bookstore is closing. Before the day is out, there'll be shaved heads, a diva author, and a very large shipment of Air Jordans to contend with.
And it will take all three of them working together if they have any chance to save Wild Nights Bookstore.
Fake Plastic World by Zara Lisbon
On Sale: June 16, 2020
Cover design by Liz Dresner

Anne Ellison and Freddie Whitlock were best friends all through middle school, even though they never met in person. But when Anne did something unforgivable to Freddie, their friendship quickly fell apart.
Four years later, Freddie comes to Anne's town for the summer before she starts college. He's training to be an Olympic gymnast. Anne knows that Freddie is the boy from her past—but Freddie has no idea. As Anne and Freddie start to spend more time together, Anne can't help but fall for Freddie. Can Anne find a way her way into Freddie's heart—while keeping her identity secret? Or will the lies she's telling tear their relationship apart?
Scorpion by Jeff Sweat
On Sale: June 23, 2020
Cover design by Kathleen Breitenfeld and Rich Deas
In Scorpion, the sequel to Jeff Sweat's YA futuristic thriller Mayfly, Jemma, Lady, and Pico all left the Holy Wood to seek answers to the End, and when they find the Old Guys—the only adults to have survived the original wipeout of everyone over the age of seventeen—they think they've found help at last.
But there's a lot the Old Guys aren't telling them. In fact, some of them don't seem interested in solving the End at all and just want Jemma and her friends to leave. Meanwhile, war is brewing among the tribes of the rest of the Children. Jemma's old home has fallen into disorder, and is far from prepared for battle. It won't be long before the fighting reaches Jemma and the Old Guys, if they even live to see it.
Deadly Curious by Cindy Anstey
On Sale: June 23, 2020
Cover design by Kathleen Breitenfeld and Liz Dresner

1834. Sophia Thompson wants nothing more than to be one of the famed Bow Street Runners, London's most elite corps of detectives. Never mind that a woman has never before joined their ranks—and certainly never mind that her reclusive family has forbidden her from pursuing such an unladylike goal.
She gets the chance to prove her capabilities when an urgent letter arrives from her frantic cousin Daphne, begging Sophia to come look into the suspicious death of Daphne's brother. As Sophia begins to unravel the tangled threads of the case—with the help of a charming young policeman—she soon realizes that the murderer may be even closer to her family than she ever suspected.
A twisty tale reminiscent of Jane Austen—with a dash of murder—Deadly Curious is perfect for fans of Kerri Maniscalco.
Hunted by the Sky by Tanaz Bhathena
On Sale: June 23, 2020
Cover design by Beth Clark
Exploring identity, class struggles, and high-stakes romance, Tanaz Bhathena's Hunted by the Sky is a gripping adventure set in a world inspired by medieval India.
Gul has spent her life running. She has a star-shaped birthmark on her arm, and in the kingdom of Ambar, girls with such birthmarks have been disappearing for years. Gul's mark is what caused her parents' murder at the hand of King Lohar's ruthless soldiers and forced her into hiding to protect her own life. So when a group of rebel women called the Sisters of the Golden Lotus rescue her, take her in, and train her in warrior magic, Gul wants only one thing: revenge.
Cavas lives in the tenements, and he's just about ready to sign his life over to the king's army. His father is terminally ill, and Cavas will do anything to save him. But sparks fly when he meets a mysterious girl—Gul—in the capital's bazaar, and as the chemistry between them undeniably grows, he becomes entangled in a mission of vengeance—and discovers a magic he never expected to find.
Dangerous circumstances have brought Gul and Cavas together at the king's domain in Ambar Fort... a world with secrets deadlier than their own.
Ms. Gloria Steinem by Winifred Conkling
On Sale: June 30, 2020
Cover design by Liz Dresner
Throughout the years, Gloria Steinem is perhaps the single-most iconic figure associated with women's rights, her name practically synonymous with the word "feminism." Documenting everything from her boundary-pushing journalistic career to the foundation of Ms. magazine to being awarded the 2013 Presidential Medal of Freedom, Winifred Conkling's Ms. Gloria Steinem is a meticulously researched YA biography that is sure to satisfy even the most voracious of aspiring glass-ceiling smashers.

Not Another Love Song by Olivia Wildenstein
On Sale: July 7, 2020
Cover design by Mike Burroughs
Success requires sacrifice.
No one understands this better than high school senior Angie, who's worked her entire life toward her dream of making it onto Nashville's music scene. When her idol, Mona Stone, launches a songwriting competition, her dream suddenly feels within reach. Against her mother's wishes, Angie pours her heart and soul into creating a song worthy of Mona.
But soon it isn't only her mother who stands in the way of her dream. Reedwood High's newest transfer student, Ten, becomes a major roadblock in Angie's path to success. With his endless collection of graphic tees, his infuriating attitude, smoldering good looks, and endearing little sister, Ten toys with the rhythm of Angie's heart.
She's never desired anything but success until Ten mauled her with his big black car. Now she wants him and Mona Stone, but she can't have both. And picking one means losing the other.
We Free the Stars by Hafsah Faizal
On Sale: July 7, 2020
Cover design by Beth Clark, art by Simón Prades

The follow-up to the New York Times bestselling novel We Hunt the Flame!
After the battle on Sharr that closed We Hunt the Flame, Zafira and Nasir return to a ghostly Sultan's Keep, low on resources and allies alike. The dark forest has fallen, but the kingdom teems with fear of the Lion of the Night's return. As Nasir fights to command the dark power in his blood, Zafira fights against a very different darkness festering through her bond with the Jawarat.
The second book in the Sands of Arawiya duology, by the masterful Hafsah Faizal.
A Peculiar Peril by Jeff VanderMeer
On Sale: July 7, 2020
Cover design by Aurora Parlagreco
The first book in a new YA fantasy duology from a bestselling genre-expanding master, about a teenager who embarks on a quest to protect the world from an alternate universe where magic abounds and history has been rewritten.
After Jonathan Lambshead's elusive grandfather dies, the recently orphaned teenager inherits the family mansion—and its contents. Jonathan soon discovers that the mansion's basement holds more than just oddities: three doors serve as portals, with one leading to an alt-Earth called Aurora, where magic abounds, history has been re-written, and an occult dictator called Aleister Crowley leads an army pillaging alt-Europe. Jonathan learns of his destiny as a member of The Order, a secret society devoted to keeping our world separate from Aurora, and embarks on an epic quest to protect Earth from Crowley's dark magic.
The Fell of Dark by Caleb Roehrig
On Sale: July 14, 2020
Cover design by Mike Burroughs
What's a boy to do when his crush is a hot vampire with a mystery to solve?
The only thing August Pfeiffer hates more than algebra is living in a vampire town.
Located at a nexus of mystical energy fields, Fulton Heights is practically an electromagnet for supernatural drama. And when a mysterious (and annoyingly hot) vampire boy arrives with a cryptic warning, Auggie suddenly finds himself at the center of it. An ancient and terrible power is returning to the earthly realm, and somehow Auggie seems to be the only one who can stop it.
Love is for Losers by Wibke Brueggemann
On Sale: July 14, 2020
Cover design by Aurora Parlagreco
Did you know you can marry yourself? How strange/brilliant is that?
Fifteen-year-old Phoebe thinks falling in love is vile and degrading, and vows never to do it. Then, due to circumstances not entirely in her control, she finds herself volunteering at a local thrift shop. There she meets Emma... who might unwittingly upend her whole theory on life.
This is a laugh-out-loud exploration of sexuality, family, female friendship, grief, and community. With the heart and hilarity of Netflix's critically-acclaimed Sex Education, Wibke Brueggemann's sex positive debut is required reading for Generation Z teens. Think of this as Bridget Jones' Diary, if it were written by Bridget's daughter.
The Invention of Sophie Carter by Samantha Hastings
On Sale: July 14, 2020
Cover design by Katie Klimowicz
1851. Bounced from one begrudging relative to another their whole lives, orphaned identical twins Sophie and Mariah Carter have always relied on each other for love and support, even though the sisters couldn't be more different.
Brash Sophie wants to be an inventor, and demure Mariah wants to be an artist. Both long to visit London for the summer—Sophie to see the Queen's Great Exhibition and Mariah to study the world's finest collection of paintings. But when their cantankerous aunt answers their letter pleading for a place to stay, she insists she only has time and room to spare for one of them. So, Mariah and Sophie hatch a clever scheme: They will travel to London together and take turns playing the part of "Sophie".
At first, the plan runs like clockwork. But as the girls avoid getting caught by increasingly narrow margins and two handsome gentlemen—both of whom think they're falling in love with the real Sophie Carter—enter the equation, the sisters find they don't have the situation quite as under control as they thought.
The Do-Over by Jennifer Honeybourn
On Sale: July 14, 2020
Cover design by Trisha Previte
Emelia has always wanted to fit in with the A crowd. So, when Ben, the hottest guy in school, asks her out, she chooses him over Alistair, her best friend—even after he confesses his feelings to her.
Six months later, Emilia wonders how her life would have been different if she'd chosen Alistair instead. Haunted by her mistake, she finds a magical solution that promises to rectify the past. As a result, everything in her life is different.
Different, but not better. What happens if her second chance is her only chance to make things right?
River of Dreams by Jan Nash
On Sale: July 21, 2020
Cover design by Aurora Parlagreco
Finn Driscoll is counting down the days until she can leave for college. With her beloved brother, Noah, in a coma and her social life at school sinking every day, she's ready for a fresh start.
Until the night she sees Noah in a dream. He begs for her help. At first, she shakes it off as just a nightmare. Then it happens again. And again. Frightened, Finn confides in her grandmother, only to learn the shocking truth about her family. They're Dreamwalkers—heroes who step into the River of Dreams and fight the monsters in other people's nightmares, freeing them to face the problems in their real lives. Finn doesn't want to believe what her grandmother tells her and, even if she does believe it, she has no interest in walking through other people's dreams. But if she wants to save Noah she has no choice.
The Faithless Hawk by Margaret Owen
On Sale: July 28, 2020
Cover design by Rich Deas and Mike Burroughs
Kings become outcasts and lovers become foes in the thrilling sequel to Margaret Owen's The Merciful Crow.
As the new chieftain of the Crows, Fie knows better than to expect a royal to keep his word. Still she's hopeful that Prince Jasimir will fulfill his oath to protect her fellow Crows. But then black smoke fills the sky, signaling the death of King Surimir and the beginning of Queen Rhusana's merciless bid for the throne.
With the witch queen using the deadly plague to unite the nation of Sabor against the Crows—and add numbers to her monstrous army—Fie and her band are forced to go into hiding, leaving the country to be ravaged by the plague. However, they're all running out of time before the Crows starve in exile and Sabor is lost forever.
A desperate Fie calls on old allies to help take Rhusana down from within her own walls. But inside the royal palace, the only difference between a conqueror and a thief is an army. To survive, Fie must unravel not only Rhusana's plot, but ancient secrets of the Crows—secrets that could save her people, or set the world ablaze.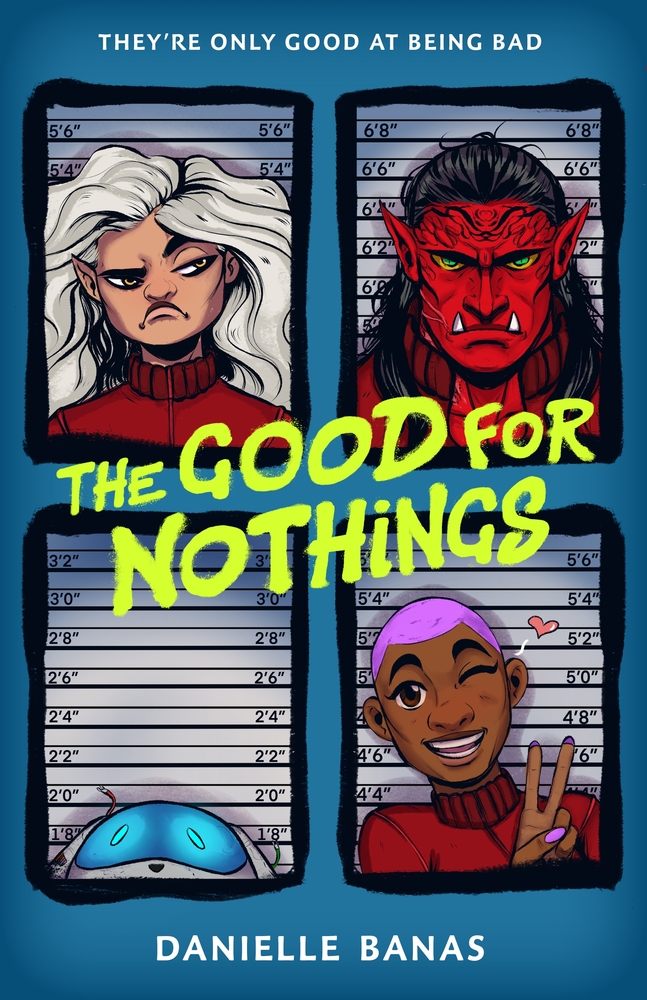 The Good For Nothings by Danielle Banas
On Sale: August 4, 2020
Cover design by Liz Dresner
Cora Saros is just trying her best to join the family business of theft and intergalactic smuggling. Unfortunately, she's a total disaster. After landing herself in prison following an attempted heist gone very wrong, she strikes a bargain with the prison warden: He'll expunge her record if she brings back a long-lost treasure rumored to grant immortality.
Cora is skeptical, but with no other way out of prison (and back in her family's good graces), she has no choice but to assemble a crew from her collection of misfit cellmates—a disgraced warrior from an alien planet; a cocky pirate who claims to have the largest ship in the galaxy; and a glitch-prone robot with a penchant for baking—and take off after the fabled prize. But the ragtag group soon discovers that not only is the too-good-to-be-true treasure very real, but they're also not the only crew on the hunt for it. And it's definitely a prize worth killing for.
A Map to the Sun by Sloane Leong
On Sale: August 4, 2020
Cover design by Sunny Lee, art by Sloane Leong
One summer day, Ren meets Luna at a beachside basketball court and a friendship is born. But when Luna moves to back to Oahu, Ren's messages to her friend go unanswered.
Years go by. Then Luna returns, hoping to rekindle their friendship. Ren is hesitant. She's dealing with a lot, including family troubles, dropping grades, and the newly formed women's basketball team at their high school. With Ren's new friends and Luna all on the basketball team, the lines between their lives on and off the court begin to blur. During their first season, this diverse and endearing group of teens are challenged in ways that make them reevaluate just who and how they trust.
Displacement by Kiku Hughes
On Sale: August 4, 2020
Cover design by Molly Johanson, art by Kiku Hughes
Kiku is on vacation in San Francisco when suddenly she finds herself displaced to the 1940s Japanese-American internment camp that her late grandmother, Ernestina, was forcibly relocated to during World War II.
These displacements keep occurring until Kiku finds herself "stuck" back in time. Living alongside her young grandmother and other Japanese-American citizens in internment camps, Kiku gets the education she never received in history class. She witnesses the lives of Japanese-Americans who were denied their civil liberties and suffered greatly, but managed to cultivate community and commit acts of resistance in order to survive.
All Our Worst Ideas by Vicky Skinner
On Sale: August 11, 2020
Cover design by Katie Klimowicz
When Amy, on her way to becoming valedictorian of her graduating class and getting accepted to her dream school, gets dumped by her long-term boyfriend, she takes a job at a record store to ease the pain. She needs a distraction, badly.
Oliver, Amy's record store co-worker, isn't so sure about Amy—his complete opposite—but what he is sure of is his decision not to go to college. He just can't figure out how to tell his mother.
As they work late-night shifts at the record store, Amy and Oliver become friends and then confidantes and then something more, but when Amy has a hard time letting go of what she thought was her perfect future with her ex, she risks losing the future she didn't even know she wanted with Oliver.
Bright Raven Skies by Kristina Pérez
On Sale: August 25, 2020
Cover design by Carolyn Bull
Bright Raven Skies is the thrilling conclusion to the lush and heart-wrenching romantic fantasy trilogy about ancient magic, warring families, and star-crossed lovers by Kristina Pérez.
To save the kingdom, Branwen embraced the darkest aspects of her magic. But she may have lost herself—and the two people she loves most.
Tristan and Eseult are missing. As Branwen searches for them, she must hide the truth surrounding their disappearance from both the king and her lover. Above all, she must find the Queen and her Champion first.
New and old enemies circle Branwen, clamoring for power and revenge, and threatening to destroy the fragile peace that she has sacrificed everything to secure.
The Con Code by Shana Silver
On Sale: August 25, 2020
Cover design by Liz Dresner
By day, seventeen-year-old Fiona Spangler runs small cons for her ritzy prep-school classmates: getting them out of tests and forging fake hall passes. But by night, Fiona joins her dad on riskier heists: stealing back the clue-filled forgeries her mom scattered across the country before she disappeared. Fiona desperately hopes that her mother will be waiting at the end of the scavenger hunt she left behind.

And they are SO close. Just three more heists remain, but then disaster strikes when Fiona's dad is captured by the FBI. Desperate to finish the job and save what's left of her family, Fiona assembles of crew of teen criminals: a master of disguise who can transform into anyone, a talented hacker who only communicates in glares, and a rival con artist with a vendetta against—and possible crush on—Fiona.
All they have to do is perform three nearly impossible heists, solve her mother's incredibly complex clues, and evade the FBI. Easy, right?
Covers Still to Come: