Three Incredibly Exciting Releases Coming This November
November 1, 2023 | 12:00 PM
Three Incredibly Exciting Releases Coming This November
By Team Fierce Reads
With colder weather approaching, there are two genres that just make the most sense: dark fantasy and sapphic horror. Lucky for us, our November releases include just that. 😂 We have two new titles that we are sure will grab your attention, and one gothic box set that will be the perfect addition to your bookshelf. Get your copies now!
Vengeance of the Pirate Queen
by Tricia Levenseller On sale: November 7, 2023
Pirates of the Caribbean meets The Mummy in Vengeance of the Pirate Queen, a beautifully designed standalone YA fantasy romance, set in the world of Tricia Levenseller's Daughter of the Pirate King.
You can't be afraid of the dark when you're the monster lurking in the shadows.
As an assassin working for the pirate queen, eighteen-year-old Sorinda is surprised when Alosa's next task for her is not to kill a new target, but to captain a handpicked crew on a rescue mission. Unfortunately, her sailing master is twenty-year-old Kearan. He may be the best helmsman the pirate queen has, but Sorinda finds him a real pain in the arse. Sadly, there are few places on a ship to hide from an attentive man. As the crew of the
Vengeance
faces dangerous waters and deadly sea creatures, they accidentally awaken the King of the Undersea, a being who can control the dead. Their rescue mission quickly turns into a fight to save the world, but first, Sorinda must save herself from becoming an undead queen.
The Gilded Duology Box Set
by Marissa Meyer On sale: November 7, 2023
In Gilded, #1 New York Times-bestselling author Marissa Meyer returns to the fairytale world with this haunting tale.
Long ago cursed by the god of lies, a poor miller's daughter has developed a talent for spinning stories that are fantastical and spellbinding and entirely untrue. Or so everyone believes. When one of Serilda's outlandish tales draws the attention of the sinister Erlking and his undead hunters, she finds herself swept away into a grim world where ghouls and phantoms prowl the earth and hollow-eyed ravens track her every move. The king orders Serilda to complete the impossible task of spinning straw into gold, or be killed for telling falsehoods. In her desperation, Serilda unwittingly summons a mysterious boy to her aid. He agrees to help her… for a price. Love isn't meant to be part of the bargain. Soon Serilda realizes that there is more than one secret hidden in the castle walls, including an ancient curse that must be broken if she hopes to end the tyranny of the king and his wild hunt forever.
In Cursed, #1 New York Times bestselling author Marissa Meyer brings the haunting fairytale-inspired Gilded duology to a thrilling conclusion that will have fans—old and new—spinning.
Be still now, and I will tell you a tale.
Adalheid Castle is in chaos. Following a shocking turn of events, Serilda finds herself ensnared in a deadly game of make-believe with the Erlking, who is determined to propel her deeper into the castle's lies. Meanwhile, Serilda is determined to work with Gild to help him solve the mystery of his forgotten name and past. But soon it becomes clear that the Erlking doesn't only want to use Serilda to bring back his one true love. He also seeks vengeance against the seven gods who have long trapped the Dark Ones behind the veil. If the Erlking succeeds, it could change the mortal realm forever. Can Serilda find a way to use her storytelling gifts for good—once and for all? And can Serilda and Gild break the spells that tether their spirits to the castle before the Endless Moon finds them truly cursed? Romance and adventure collide in this stunning finale to the Rumpelstilskin-inspired fairy tale.
Gorgeous Gruesome Faces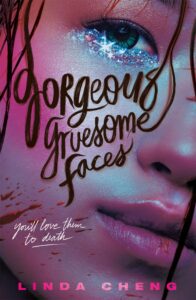 by Linda Cheng On sale: November 7, 2023
Squid Game meets Wilder Girls in this debut YA sapphic horror that follows a disgraced teen idol who comes face to face with the demons of her past in a glittering, cutthroat K-pop competition.
After a huge scandal that ended her pop idol career, eighteen-year-old Sunny Lee spends her days longing for the past and cyber-stalking her former bandmate, Candie. When Sunny learns that Candie is attending an intensive workshop that promises stardom, she auditions and enters the program, desperate for one last shot at her dreams and a chance to mend their broken relationship. But Sunny's hopes are dashed when a hostile Candie leaves her to struggle alone through the grueling training. Things only get worse as Sunny notices eerie happenings as the workshop goes on - strange injuries and even stranger changes to her competitors bodies that quickly turn grisly as the girls begin to drop one by one. Determined to survive, Sunny teams up with her fiercest competitor, a razor-tongued mean girl, as they race to expose just what's behind the carnage. But when traumatic memories resurface and ghostly apparitions start haunting the halls, Sunny begins to question everything and every
one
, including her own unravelling mind.