An Interview with B.R. Myers, Author of Rogue Princess
January 14, 2020 | 2:00 PM
An Interview with B.R. Myers, Author of Rogue Princess
By Team Fierce Reads
Do you absolutely LOVE Cinderella retellings?
Are you a HUGE fan of sci-fi?
Is Cinder by Marissa Meyer one of your ALL-TIME FAVORITE books?
Good news: Rogue Princess is the PERFECT book for you! And, bonus, it's not your usual Cinderella story—it's a gender-swapped retelling! So instead of Prince Charming, you have Princess Delia, and instead of a maid, there's Aidan, a desperate thief. We can't resist this pair and we're sure you won't be able to either. But in case you need more convincing, here's an interview with the author, B.R. Myers!

What makes Princess Delia and Aidan Fierce?
Princess Delia is a skilled fighter who doesn't shy away from a spar, however her true fierceness shines through when she stands up for someone who can't fight for themselves. 
Despite being raised in a house where he is considered a servant and a burden, Aidan has survived his neglectful stepfamily with a cheeky humor and has a deep capacity for charity and kindness.
If you could give Princess Delia and Aidan one piece of advice, what would it be?
I would tell Princess Delia to have confidence in her own instincts instead of making decisions based on duty.
For Aidan, I wouldn't give any advice, I'd just listen to what he has to say because he cracks me up.
What's your favorite part of being an author?
I love typing THE END for the first draft of any project. Even though I know there are many revisions ahead, the satisfaction of completing the story the first time doesn't compare to anything else.
If you'd met Princess Delia and Aidan as a teen, which of the two would you have been friends and why?
Princess Delia is much too busy as a queen-in-training to hang out with teen me, plus she's a perfectionist and always frets about making the right decision—which might make us late for the movies. Aidan and I would have more to talk about since we're both commoners. However, if I ever found myself in a desperate situation, these two would both be committed to coming up with a scheme to help.
What's one fun fact most people don't know about you?
I do a nearly perfect impersonation of Ethel Merman.
What 3 words would you use to describe your book?
Royals! Spaceships! Romance!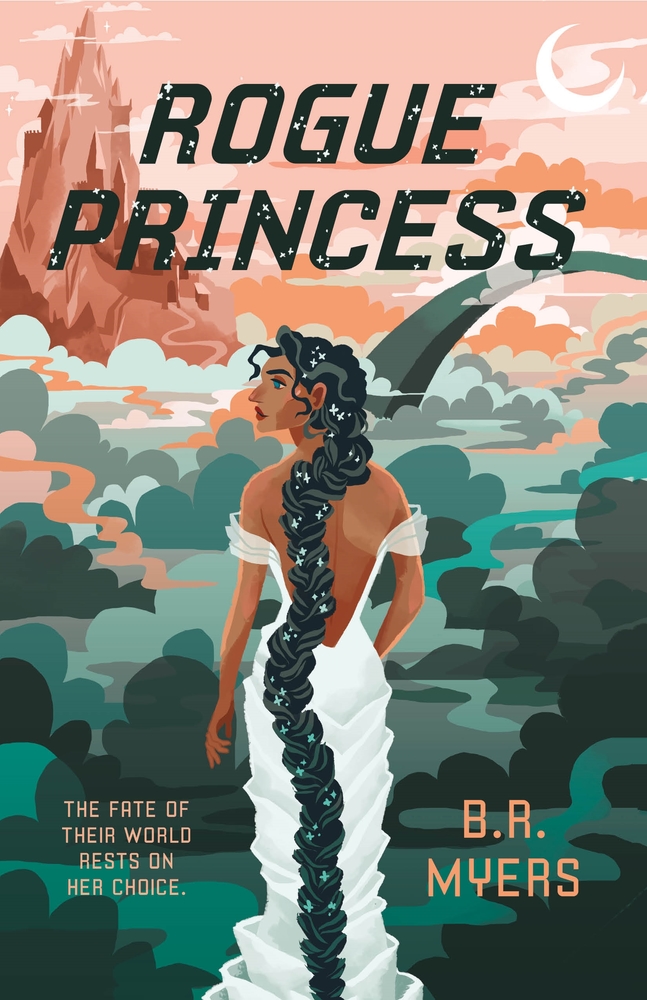 A princess fleeing an arranged marriage teams up with a snarky commoner to foil a rebel plot in B. R. Myers' Rogue Princess, a gender-swapped sci-fi YA retelling of Cinderella.
Princess Delia knows her duty: She must choose a prince to marry in order to secure an alliance and save her failing planet. Yet she secretly dreams of true love, and feels there must be a better way. Determined to chart her own course, she steals a spaceship to avoid the marriage, only to discover a handsome stowaway.
All Aidan wanted was to "borrow" a few palace trinkets to help him get off the planet. Okay, so maybe escaping on a royal ship wasn't the smartest plan, but he never expected to be kidnapped by a runaway princess!
Sparks fly as this headstrong princess and clever thief battle wits, but everything changes when they inadvertently uncover a rebel conspiracy that could destroy their planet forever.