Books by Black Authors to Add to Your TBR List
Books by Black Authors to Add to Your TBR List
By Team Fierce Reads
Black Lives Matter.
With blatant racism and discrimination running rampant across the country, the need to amplify and support Black authors is clearer than ever. One way to celebrate Black authors is to read their stories, so we made a list of some of our favorites to make sure your TBR is stacked with the best reading material out there.
opens in a new window
When sixteen-year-old Tariq Johnson dies from two gunshot wounds, his community is thrown into an uproar. Tariq was black. The shooter, Jack Franklin, is white.
In the aftermath of Tariq's death, everyone has something to say, but no two accounts of the events line up. Day by day, new twists further obscure the truth.
Tariq's friends, family, and community struggle to make sense of the tragedy, and to cope with the hole left behind when a life is cut short. In their own words, they grapple for a way to say with certainty: This is how it went down.
opens in a new window
A girl walks home from school. She's tall for her age. She's wearing her winter coat. Her headphones are in. She's hurrying.
She never makes it home.
In the aftermath, while law enforcement tries to justify the response, one fact remains: a police officer has shot and killed an unarmed thirteen-year-old girl. The community is thrown into upheaval, leading to unrest, a growing movement to protest the senseless taking of black lives, and the arrival of white supremacist counter demonstrators.
(This is the companion novel to How It Went Down.)
opens in a new window
Much of what 21st century culture tells black girls is not pretty: Don't wear this; don't smile at that. Don't have an opinion; don't dream big. And most of all, don't love yourself. In response to such destructive ideas, internationally recognized poet Mahogany Browne challenges the conditioning of society by crafting an anthem of strength and magic undeniable in its bloom for all beautiful Black girls. She has traveled the world sharing her vision of Black Girl Magic, and now in collaboration with artist Jess X. Snow, presents her acclaimed tribute in a visual form.
opens in a new window
Alice is secretly asexual, and that's the least important thing about her.
She's a college student, has a great job, amazing friends, and is fine being single—nope, that's a lie. Alice wants rom com—grade romance: feels, cuddling, kissing, and swoons galore—as long as it doesn't lead to having sex.
When her last relationship ends, Alice swears off relationships for good. Stick a fork in her, she's done. Everyone Alice tries to date is so sure love and sex have to go together, and there doesn't seem to be any way to convince them otherwise.
But when Alice meets Takumi, who she can't stop thinking about, she doesn't know what to do. If Alice tells him the truth, it can only end in heartache. But there's something about Takumi that makes him worth the risk . . .
opens in a new window
Winnie is living her best fat girl life and is on her way to the best place on earth. No, not Disneyland—her Granny's diner, Goldeen's, in the small town of Misty Haven. While there, she works in her fabulous 50's inspired uniform, twirling around the diner floor and earning an obscene amount of tips. With her family and ungirlfriend at her side, she has everything she needs for one last perfect summer before starting college in the fall . . . until she becomes Misty Haven's Summer Queen in a highly anticipated matchmaking tradition that she wants absolutely nothing to do with.
Newly crowned, Winnie is forced to take center stage in photoshoots and a never-ending list of community royal engagements. Almost immediately, she discovers that she's deathly afraid of it all: the spotlight, the obligations, and the way her Merry Haven Summer King, wears his heart, humor, and honesty on his sleeve. Stripped of Goldeen's protective bubble, to salvage her summer Winnie must conquer her fears, defy expectations, and be the best Winnie she knows she can be—regardless of what anyone else thinks of her.
opens in a new window
Zélie Adebola remembers when the soil of Orïsha hummed with magic. Burners ignited flames, Tiders beckoned waves, and Zélie's Reaper mother summoned forth souls.
But everything changed the night magic disappeared. Under the orders of a ruthless king, maji were killed, leaving Zélie without a mother and her people without hope.
Now Zélie has one chance to bring back magic and strike against the monarchy. With the help of a rogue princess, Zélie must outwit and outrun the crown prince, who is hell-bent on eradicating magic for good.
Danger lurks in Orïsha, where snow leoponaires prowl and vengeful spirits wait in the waters. Yet the greatest danger may be Zélie herself as she struggles to control her powers—and for her enemies.
opens in a new window
Ryann Bird dreams of traveling across the stars. But she settles for acting out and skipping school.
Until she meets Alexandria, a furious loner. After a horrific accident leaves Alexandria with a broken arm, the girls are brought together despite themselves—and Ryann learns Alexandria's secret: Her mother is an astronaut on a one-way trip past the edge of the solar system.
Every night, Alexandria waits for radio signals from her mother. And now Ryann lifts Alexandria onto the roof day after day, until the silence between them grows into friendship... and eventually something more.
opens in a new window
The first time the Nightmares came, it nearly cost Alice her life. Now she's trained to battle monstrous creatures in the dark dream realm known as Wonderland with magic weapons and hardcore fighting skills. Yet even warriors have a curfew.
Life in real-world Atlanta isn't always so simple, as Alice juggles an overprotective mom, a high-maintenance best friend, and a slipping GPA. Keeping the Nightmares at bay is turning into a full-time job. But when Alice's handsome and mysterious mentor is poisoned, she has to find the antidote by venturing deeper into Wonderland than she's ever gone before. And she'll need to use everything she's learned in both worlds to keep from losing her head . . . literally.
A CROWN SO CURSED GOES ON SALE APRIL 13, 2021
opens in a new window
Four teenage girls. Four different stories. What they all have in common is that they're dealing with unplanned pregnancies.

In rural Georgia, Izella is wise beyond her years, but burdened with the responsibility of her older sister, Ola, who has found out she's pregnant. Their young neighbor, Missippi, is also pregnant, but doesn't fully understand the extent of her predicament. When her father sends her to Chicago to give birth, she meets the final narrator, Susan, who is white and the daughter of an anti-choice senator.
opens in a new window
When Chloe Pierce's mom forbids her to apply for a spot at the dance conservatory of her dreams, she devises a secret plan to drive two hundred miles to the nearest audition. But Chloe hits her first speed bump when her annoying neighbor Eli insists upon hitching a ride, threatening to tell Chloe's mom if she leaves him and his smelly dog, Geezer, behind. So now Chloe's chasing her ballet dreams down the east coast—two unwanted (but kinda cute) passengers in her car, butterflies in her stomach, and a really dope playlist on repeat.
opens in a new window
Heavily autobiographical and infused with magical realism, Black Girl Unlimited fearlessly explores the intersections of poverty, sexual violence, depression, racism, and sexism.
Echo Brown is a wizard from the East Side, where apartments are small and parents suffer addictions to the white rocks. Yet there is magic . . . everywhere. New portals begin to open when Echo transfers to the rich school on the West Side, and an insightful teacher becomes a pivotal mentor.
Each day, Echo travels between two worlds, leaving her brothers, her friends, and a piece of herself behind on the East Side. There are dangers to leaving behind the place that made you. Echo soon realizes there is pain flowing through everyone around her, and a black veil of depression threatens to undo everything she's worked for.
opens in a new window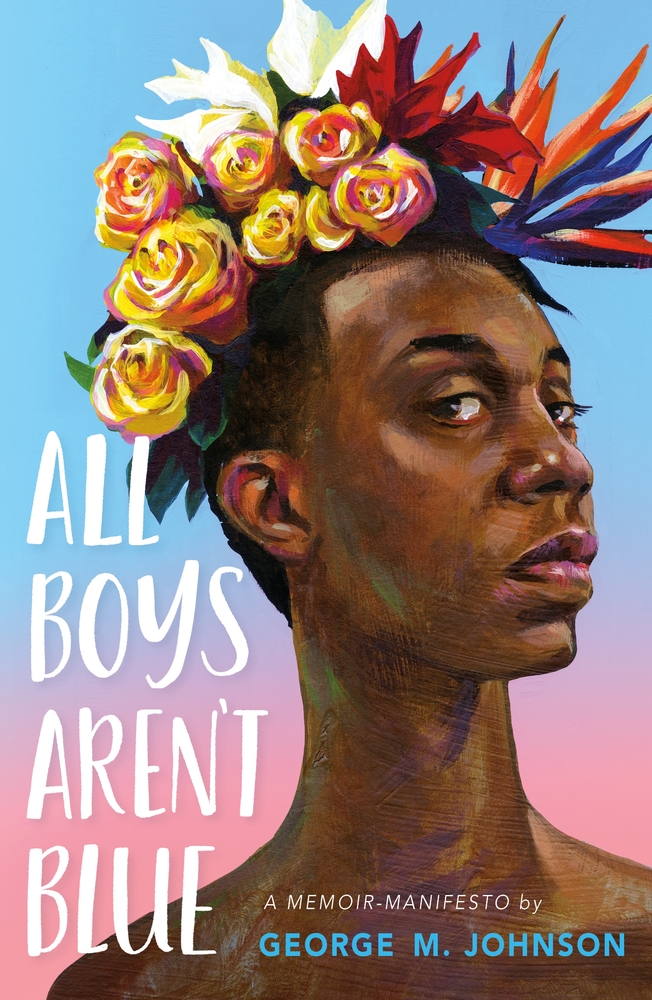 In a series of personal essays, prominent journalist and LGBTQIA+ activist George M. Johnson explores his childhood, adolescence, and college years in New Jersey and Virginia. From the memories of getting his teeth kicked out by bullies at age five, to flea marketing with his loving grandmother, to his first sexual relationships, this young-adult memoir weaves together the trials and triumphs faced by Black queer boys.
Both a primer for teens eager to be allies as well as a reassuring testimony for young queer men of color, All Boys Aren't Blue covers topics such as gender identity, toxic masculinity, brotherhood, family, structural marginalization, consent, and Black joy. Johnson's emotionally frank style of writing will appeal directly to young adults.
opens in a new window
Following in the footsteps of her überfamous grandma, eighteen-year-old Evie Jones is poised to be Hollywood's next big star. That is until a close friend's betrayal leads to her being blacklisted . . .
Fortunately, Evie knows just the thing to save her floundering career: a public appearance with America's most beloved actress—her grandma Gigi, aka the Evelyn Conaway. The only problem? Gigi is a recluse who's been out of the limelight for almost twenty years. Days before Evie plans to present her grandma with an honorary award in front of Hollywood's elite, Gigi does the unthinkable: she disappears.
With time running out and her comeback on the line, Evie reluctantly enlists the help of the last person to see Gigi before she vanished: Milo Williams, a cute musician Evie isn't sure she can trust. As Evie and Milo conduct a wild manhunt across New York City, romance and adventure abound while Evie makes some surprising discoveries about her grandma—and herself.
ON SALE AUGUST 25, 2020